Our Chairman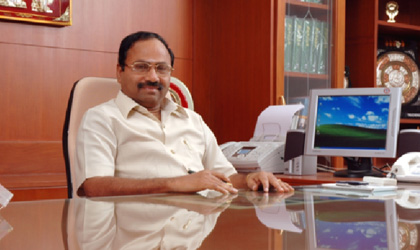 Vidhya Rathna, Rashtiya Rattan, Hind Rattan, Kongu Nattu Sathanaiyalar
Prof. Dr. M. KARUNANITHI, B.Pharm., M.S., Ph.D., D.Litt.,
Chairman & Secretary
Vivekanandha Educational Institutions
"Vidhya Rathna" Professor Dr.M.Karunanithi, B.Pharm., M.S., Ph.D., D.Litt., has made his name well-known far and wide. He is an Educationist, a Philanthropist, a Chemist and an Industrialist. With his profound experience and unique vision, he established Angammal Educational Trust in 1987 and Krishna Educational and Charitable Trust in 2006. He took over the Rabindharanath Tagore Educational Charitable Trust in 2010, which was started in the year 2002.
Welcome to SVNYMC
Swamy Vivekanandha Naturopathy and Yoga Medical College sponsored by C and Affiliated to the Tamil Nadu Dr. MGR Medical University, Chennai and approved by Directorate of Indian Medicine and Homeopathy, Department of Health and Family Welfare, Government of Tamilnadu. Read More
Bachelor of Naturopathy and Yoga Sciences
COURSE DURATION
5 -1/2 YRS
4-1/2 YRS ACADEMIC
1 YEAR INTERNSHIP
Admission
SVNYMC the philanthropic wing of Angammal Educational Trust, Being a world class institution serving education more than 20 years.
Salient Features
No Donation
NEET - Not Requried
Co - Education
Modern Hostel
150 bedded Naturopathy hospital
24*7 multispecialty hospital – VMCH
Well-equipped laboratory Modern Hostel
Free transport service
Research culture at campus
Award Galore